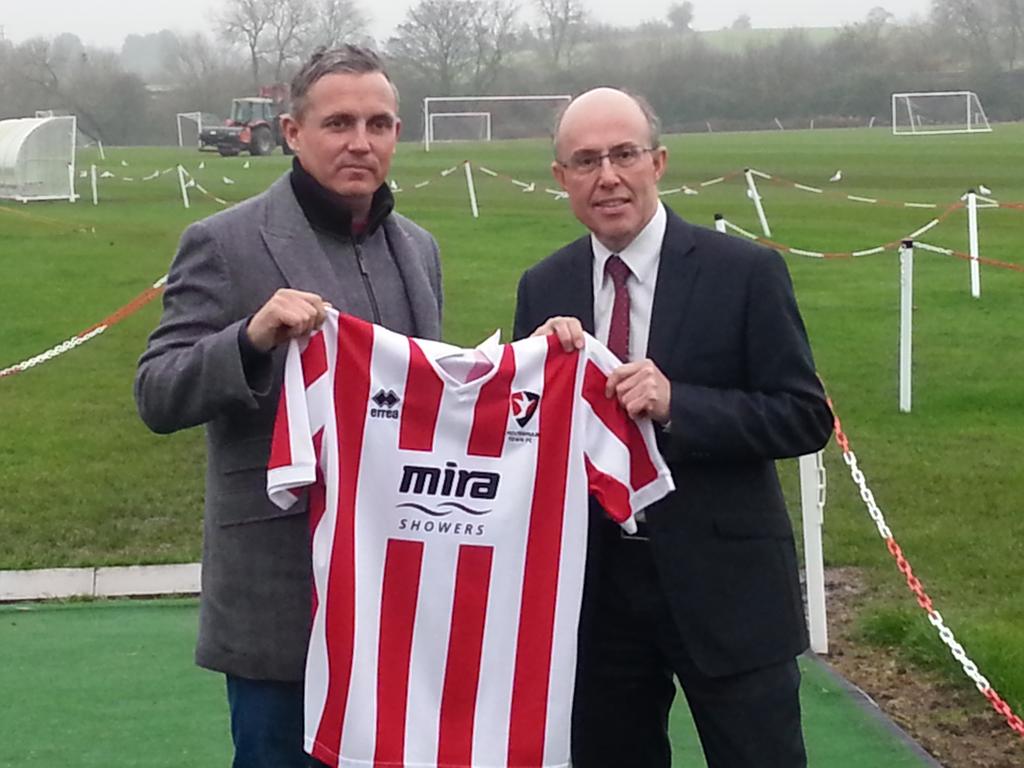 PB welcomes PB. That's not going to be too confusing, is it?
So it has happened.
After nearly five years, Mark Yates' reign came to an end and we bid farewell to a man who gave sterling service to our club as player, captain and manager, ran through brick walls for us and tried his best to give us what we wanted.
But in the end, he couldn't quite deliver it, and his departure was, let's be totally honest, inevitable given the recent league results and performances, allied with the chairman's rather muddled statement on Monday which wasn't exactly equivocal in its' backing for our now ex-manager.
So now we move into a new era - but with many memories of Yates' time in charge. Wembley, 6-5 at Burton, Spurs, Everton, West Ham, Mo's header at Hereford, Marlon's free-kick... I could go on and on.
There were some not so good reminiscences too - I still can't listen to Coldplay's Paradise, the 8-1 at Crewe, and some other heavy defeats on the road culminating in the 5-1 at Stevenage - which will now go down as the last time I saw a Yates team play, and the frustration of all those dropped points from winning positions.
But we now thank Mark for all he did, wish him good luck and hope he gets a new job quickly, and have to move on to the future under Paul Buckle's management.
I am not going to go into great detail about the Yates reign and manner of his departure. Just read back through the 200-plus posts on this blog to get a good idea of the ups and downs, or read my mate James Young's brilliant piece on the reign and whole recent situation from today's Echo
here
. Sums it all up very well.
It is slightly ironic that we welcome Buckle on the third anniversary of a 3-1 win at Oxford which was about as good an away performance as we ever put in under Yates. Would be good if the new man could lead us to performances like that one...!
Tuesday was a mad day. The Yates announcement was not a complete surprise to me when it came early in the morning, then it was all about the speculation game.
James Beattie? Nigel Worthington? Russell Milton? Those were the popular names in the Twittersphere, but suddenly the names of Paul Buckle and Paul Trollope appeared from nowhere and came to the forefront, rising to the top of the bookies' odds. And we know they are rarely wrong.
Then, an announcement on Thursday at 9am for the new manager, we were told. The new man has been earmarked. Then it became Wednesday at 2pm - and we now know why, as Buckle caught an earlier flight back from New York.
Blimey, that's a bit quick - and there lies my biggest nagging issue with this process.
Not about the man who has been appointed - he will be judged by me on his results over time - but the haste with which it has been done.
I still recall being sat in a pub in Edinburgh on Saturday morning and getting a text that Keith Downing had gone. Then, a few hours later after watching Hibs beat Dundee United, I was back in the same pub when Martin Allen was appointed. We all know how that one turned out.
Now, I am not comparing Buckle to Allen in any way - that would be grossly unfair when the guy has been in the job a few hours, but it just all seems a bit quick.
I can understand the board wanting to avoid that caretaker hiatus which can bring instability to a club - Buckle coming in means we can just settle straight in to a new era.
But where was the harm in seeing who else was out there? See who else would have applied, and whether a new 'number one candidate' no-one had even considered was waiting out there to put his case forward.
When it became more and more evident that it was going to be Buckle, another thought entered my head.
His assistant at Torquay and Bristol Rovers was one Shaun North - how much does his presence here have to do with Buckle being our 'number one choice?' and what role has he had in the appointment?
We will probably never know for sure, so let's just hope their reunion can be a fruitful one.
Unsurprisingly, the social media reaction has been mixed - some are pleased, others non-committal, others wanted someone else and a few have already bookmarked the Conference Premier directions page.
So much as expected, I guess.
Other clubs' fans have also put their oar in. I have had mainly positive comments about him from Torquay fans, some of whom wish he was still there, and nothing but negativity from Bristol Rovers followers.
Again, much as expected given his records at the two clubs.
After a play-off semi-final and FA Trophy final defeat, he took Torquay out of the Conference, and then, after a season of stability, took them to the League Two play-off final, where they lost 1-0 to Stevenage.
He left immediately to go to Rovers, where it didn't work out for him at all, and it all ended very acrimoniously.
Rovers sacked him after seven months when they were 19th in League Two and he then went to Luton, where he also lost in the Conference play-off final, to York, but left there to go to the USA with his now-wife, the NBC TV presenter Rebecca Lowe.
I remember him bringing Torquay here in the JPT to face us under Allen, and they passed us to death to win 3-1. We also faced his Rovers team, beating them 3-1 at the Mem, and they were very poor - so we have seen both sides.
Overall, in 307 games, at these clubs, his win percentage is 45.28 per cent - which is not the worst, and does show his level of experience around this level of football.
He has, however, been in America for a year, so what is his current League Two knowledge level? He says he has kept in touch, so let's hope he has.
But despite those doubts, it is done, and Buckle is now our manager, so let's get used to it.
Many fans wanted change. They wanted new ideas. A new pair of eyes. A new philosophy. A new everything, basically.
Well there you are - the board have given you what you wanted, so it's pointless moaning about it now.
It's time to get behind it, whether Buckle is the man you wanted or not. It doesn't matter what he has or hasn't done at Plainmoor, the Mem or the Kennel. It's what he does here that counts.
Look at Allen. He was a total disaster here, but got Gillingham up and is a good fit for Barnet it seems. Not every manager succeeds at every club - we love Steve Cotterill for instance, but ask Stoke or Portsmouth fans about him ... not so complimentary.
It doesn't always pay to listen to what fans of other clubs say about players or managers.
I hope we see a massive crowd on Saturday, especially those 'hundreds of fans' we kept being told by Yates' critics had turned their backs on the club and didn't want to come any more as Yates' football was boring them.
The players now have a clean slate. From listening to his first interview, he stressed that he has high standards and high expectations from his players, especially on the training ground.
He expects hard work, dedication, and wants players to stay behind for extra training - so the Playstation afternoons which used to rile so many when players talked about them on Twitter might be put on hold for a bit - and let us remember there are plenty of contracts up for grabs.
If my recollection is correct, only Trevor Carson, Asa Hall and Matt Taylor have a contract past next summer - so lots to prove for lots of lots of people.
With the loan window ending tomorrow, Buckle will have to go with what he has for now, so the squad has six games - Oxford, Dover, Portsmouth and Newport at home, and Mansfield and Exeter away - until the start of January to impress.
That Dover game will loom large - and might also have played a big part in the haste of the appointment as the board, I suspect, did not want to go into that with a caretaker boss.
For Buckle, that game will be a massive one as it will no doubt govern his budget for January and any need for reinforcements or potential departures which might become evident to him over the coming weeks.
For now, he will be hoping Matt Taylor reports fit from training and comes through okay for Saturday as that will be his key area to address.
His early plans are not helped by having Lee Vaughan out for three games. He needs to find a right back as we don't have a natural back-up, and that issue may force his hand when deciding whether to bin the 3-5-2 and go back to a flat back four.
Hall will be out until Christmas is seems, so Jason Taylor, Matt Richards, Kane Ferdinand and Joe Hanks look to be competing for starts in midfield - even more so if he decides he doesn't want three in there any more.
The change of manager could also be good news for the largely-neglected wingers, who might finally get some chalk on their boots.
Andy Haworth might see this as the opportunity for a new beginning after being listed for a loan move, while Omari Sterling-James and Raffa de Vita especially need to hit the ground running with their short-term deals coming up for decision time in a few weeks - again for them Dover could be crucial. Lose that game and their time might well be up as not renewing their deals could be an easy way for Buckle to make room for new faces.
Up front, John Marquis' loan finishing now leaves us short. Byron Harrison and Terry Gornell look to almost be automatic choices as it seems we won't get a last-minute addition to the striking options.
But my biggest wish for Buckle is that he gives our youngsters as much chance as the seniors to stake their claim for a place in the side.
Hanks has been in and out of the team, but is now out again, while Zack Kotwica has had less chances than he did last season, and largely flatlined as a result.
We bizarrely have not seen Harry Williams at all after he ended last season in the side after scoring 38 goals at various levels from central/attacking midfield/number 10/in the hole.
Bobbie Dale was on the bench a couple of times, and our lack of forwards might give him an opening into the 18, while Adam Powell is another who hasn't made the breakthrough yet, and James Bowen was a stop-gap selection at Stevenage.
So all in all Yates did not seem to trust them. Let's hope Buckle is different and his mate Shaun North, along with Russ Milton, can get into his ear and tell him about these lads and we can get to find out of they are good enough, rather than helping other clubs bring their youngsters on in our first team.
It would be nice to see that, rather than a succession of short-term loans which blighted the Yates reign, especially over the past two seasons.
He rather took his eye off the ball regarding the loan system after the Jack Butland-Luke Garbutt-Marlon Pack successes so let's hope Buckle adopts a more pragmatic approach to it and elects to concentrate on what he has got rather than what he can find elsewhere.
I have always been more about results than entertainment, so I just hope he is going to bring us winning football, and just overall make us harder to beat.
We have been too soft at times, an easy touch, crumbling under pressure and showing a lack of backbone as we conceded goals in clusters and failed to defend leads on too many occasions - more than 60 points lost from winning positions in the last two full seasons.
So I don't really want to play like Real Madrid if those tendencies are not going to change. I'd rather play like Mansfield if it means we stop surrendering too easily.
Becoming harder to beat and showing a bit of steel in key areas is more important to me than making countless sideways passes in a game with the ball barely leaving the floor.
You have to mix it up a bit in League Two, and I just want him to give us a team which competes and does not get brushed aside easily as we tended to do - especially on the road - too regularly over the past two seasons and at times before that under Yates.
Most of all he needs a chance from everyone, whether you wanted Yates to stay, or are disappointed with the choice of his successor.
And consider this. He isn't going to be able to change everything overnight - his first task is to stabilise things, stop us conceding poor goals and folding up easily, and to bring a bit of confidence back into the squad.
Only when he does that can he start to move us up the table - but these six games to end 2014 are big ones for him, and especially his players, many of whom are now really playing for their livelihoods.
Some will relish it as a chance to prove themselves as maybe they feel they haven't had a fair crack of the whip. Others might not be the new manager's cup of tea so might drift out of favour. It happens when managers change - and can be all about the players' attitudes.
All three outcomes this season are still possible. We can still get automatic promotion as there are enough points to do it, although the recent performances may show we are miles from it. We can still make the play-offs, but equally - and let's not kid ourselves - we could still end up in the bottom two.
There is never a good time to change the manager. Only time will tell if the board have got this one right - but we have to trust them, and hope that they have. As fans, all we can do is support Paul Buckle, and support the board's decision to appoint him.
It's time to Buckle up, and enjoy the ride...